Our carwash is open 24 hours, 7 days a week for your convenience
We pride ourselves on having a clean, safe and tidy site. The site is open 24hrs and an attendant is on site 7 days a week.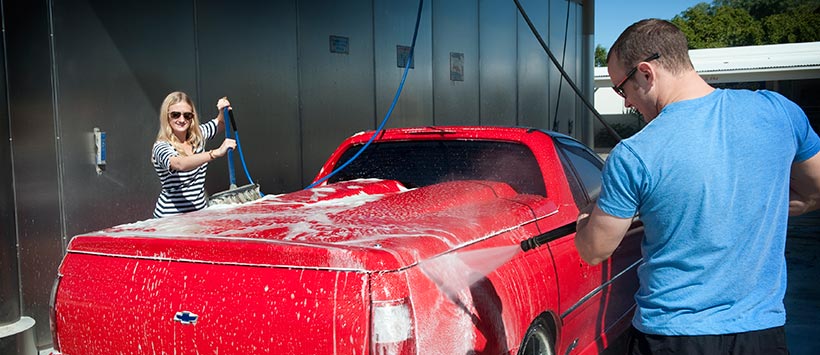 Change Machine
We have 2 change machines in the centre of our  for your convenience. These take 10c, 20c & 50c to change into $1 or $2 coins. They also take $5, $10 or $20 notes and change into gold coin.  The staff will change a $50 note for you.
Vending & Drinks Machines
Located in between our change machines is our vending machine. There is also a vending machine and cold drinks machine located over near our dog wash's.  These machines take silver & gold coins.
Self Serve Bays
Four single bays and 4 double length self serve bays for that boat, caravan,jet ski, motorhome, camping trailer or motorbike trailer. They take $1 & $2 coins & carwash tokens.
High Suction Vacuums
We have 12 high suction vacuumms.  These take $1 & $2 coins & carwash tokens.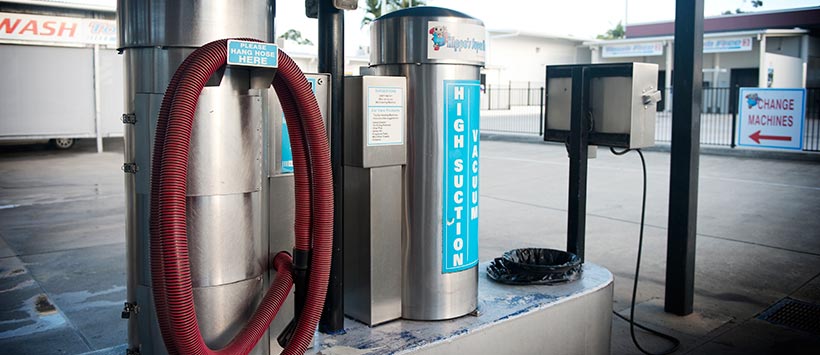 Fragrance Machine
We also have 5 fragrance machines, each machine has three different fragrances to choose from. These take $1 & $2 coins & carwash tokens.
Mat Cleaner
For best results, vacuum your mats first.  Then choose your wet or dry option to wash your mat.  Feed it in the front of the machine, it comes out the back of the machine. The wet option is touch dry only, so lay your mat out in the sun & finish off vacuuming your car & the mats will be ready when you are finished. This take $1 & $2 coins & carwash tokens.
Boat Wash.
Boat Wash
We have marine flush available in Self Serve Bays 5, 6, 7, & 8 on the entry end. All that you need is to bring along your own muffs and please remember to follow the marine flush instructions, which are posted beside the console. The marine flush button is the bottom button, clearly marked marine flush. These bays are double the length, so that your car and boat can be washed at the same time and no need to worry about your car being exposed to other vehicles while you wash you boat.
Air Shammee
Air shammee's are available in Bay 5 & 6 if you wish to air shammee your boat, bike or car off. The button to activate the air shammee is on the exit end of the bays and is the bottom button, clearly marked air shammee.  There is also a air shammee located near the mat cleaner on the middle vacuumm island.  These take $1 & $2 coins & carwash tokens.
Dog Wash
2 dog wash's have warm fresh water all year round. $12 for 10 minutes and you must have the FULL $12 to insert into the machine at start up, otherwise you will lose what credit you have put in if you go away to get more money and come back. You can add $1 or $2 coins if you need extra time to finish off your four legged friend.  Please ensure that you add the coins before your time expires.
We only use Fido products which are shampoo, conditioner and flea & tick. Please ensure you read the instructions on the front of the machine regarding the products before starting.
We also have 2 vending machines & 1 cold drink machine located on site.  Lots of products & cold drinks for you to choose from.  Please ask our friendly staff if you need a hand.  We are happy to help.
No need to book, just come on down and enjoy our facility where we know that you will love the experience.