Hippo's Super Wash on 721 Deception Bay Road, Rothwell may look like your average car wash but there are deep secrets lurking beneath – secrets which won them 2009 Moreton Bay Region Business of the Year and Small Business of the Year award, secrets which will change the way Australians view car washes forever.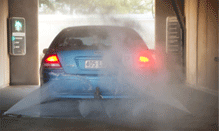 TouchFree Wash
Visit our TouchFree Wash for the ultimate car cleaning experience! Lots of options for every budget.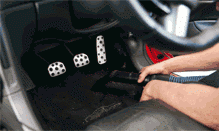 Power Vacuum
Our Power Suction Vacuum makes cleaning your interior easier that ever! Try it the next time you visit us.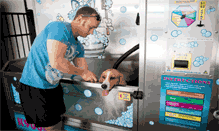 Dog Wash
We have 2 dog wash units which have warm fresh water all year round!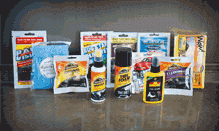 Save $$$
Buy all your car cleaning products direct from us, as well as gift vouchers and token packs.
COME AND SEE US!
We are at 721 Deception Bay Road, Rothwell (North Brisbane)
Our carwash is open 24 hours, 7 days a week for your convenience. We pride ourselves on having a clean, safe and tidy site. An attendant is on site 7 days a week.
Self Serve Bays
Change Machine
High Suction Vacuums
Vending & Drinks Machines
Fragrance Machine
Mat Cleaner
Air Shammee
Dog Wash
View all features
Owners, Phil and Katrina Kelly bought the business in 2005 and since that time have been on a mission to develop and build the biggest and most environmentally friendly car wash possible.
Emphasis on the environment
We are the largest Car Wash in Australia
Locally owned and operated
Massive 144,000 litre water tanks on-site
Based at 721 Deception Bay Road, Rothwell
Katrina Kelly, co-owner of the carwash explains getting their water recycling system right:
"More and more people are realizing the benefits to the environment and our waterways of not washing their cars at home and letting those suds and that precious water go straight down the drain. Australians have a very active environmental conscience and we can see this growing in our community."
Purchase 5 Corporate Tokens (these are the ones that you use to go through Touchfree 2 or 3 for the Super Wash) for $70.  Value is $90, that is a huge saving of $20.  You can use these anytime of the day or night.  Pop on down to the office and ask one of our friendly staff for the 10 Token Deal. Check our Promotions tab for more!